Functional endoscopic sinus surgery (FESC) – is a modern treatment method of chronic inflammation of paranasal sinuses.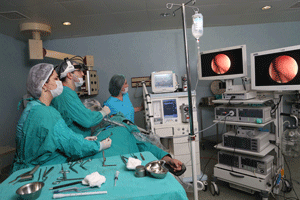 Development of medical science and technology was a new period in the surgical treatment of ear, nose and throat diseases. In the late XX century Austrian Prof. Messerklinger laid the foundation of FESC method using endoscopes in the medical practice. In the following years Austrian Prof. Stammberger and German Prof. Vigand improved FESC method and gave wide range for its use today.

It became clear that continuous congestion of natural narrow flows coordinating paranasal sinuses with nasal cavity as a result of anatomic anomaly, inflammation, polyps, etc. prevents natural ventilation of these sinuses and nasal mucus discharge and violates its function and causes a disease of chronic sinusitis (maxillary sinusitis, frontal sinusitis, etc.). Chronic sinusitis was treated under open surgery (incision under upper lip and puncture of lower jaw bone) earlier and considered hard, traumatic (face swelling, bruise) and less effective, impossible, but today it is treated in the Republican Hospital of MIA using FESC method closed, non-traumatically and effectively.

Therefore, inside of nose, problems congesting natural flows of paranasal sinuses are observed through monitor using endoscopes with "KarlStorz" endovideo equipment of Germany and special instruments and equipment considered for their elimination of the same Company are used. Internasal tip of Shaver motor equipment with cutting and suction functions enables remove of pathological and excessive tissues (polyps, etc.) quickly and non-traumatically. FESC method is easy for a patient and difficult for a surgeon, because it requires deep knowledge and skills from a surgeon not to damage important anatomic structures (optic nerve, eye-ball, magistral vessels, skull base, etc.) located close to the operation region.
What are instructions for FESC?
- Acute recurrent sinusitis and chronic sinusitis
- Nasal and paranasal sinuses benign neoplasms (polyps, ameloblastoma, osteoma, etc.)
- Compression of optic nerve
- Liquorrhea
- Nosebleed
- Transnasal intervention for pituitary tumor and meningioma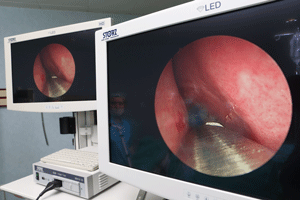 How do conduct FESC operation?
FESC operation is conducted under general anaesthesia. For this purpose a patient should pass standard preoperative examinations: blood analysis, ECG, chest roentgenography, computer tomography of paranasal sinuses. Operation duration depends on disease severity and lasts for 1-2 hours approximately. At the end of the operation modern tampon of special tubulous soft material is placed into the nasal cavity.

How the patient is observed during postoperative period?
Use of special tubulous and delicate tampons creates conditions to keep nasal breathing after operation and for absence of pain while removing tampon. These tampons are removed from nasal cavity within 24 hours after the operation and the patient may be dismissed on the same day (after 1-2 hours from removing tampons). Antibiotic therapy is recommended within 3-7 days during postoperative period for the purpose of prevention and treatment. Control examination of the patient for 1-2 times in a week during 1 month of postoperative period is considered necessary. Wound cleansing in the nasal cavity during these control examinations provides correct recovery process without complication. The patient should be in home conditions for a week after the operation and should not eat hot foods, occupy with hard physical labor and go in for sports for 1 month during this period.