Laparoscopic cholecystectomy is a procedure in which the gallbladder is removed by laparoscopic techniques through a 5-10 mm long incision during gallstones disease. Recommendation drug treatment during the inflammation of the gallbladder is circumstances when it is impossible to carry out surgical treatment.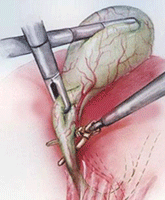 The main reason to draw attention to the gallstone disease, formation of stones in the gallbladder, is that it is a common disease in the developed countries and surgical treatment is advised to the vast majority of these patients and laparoscopic cholecystectomy is considered to be the operation of the gold standard.

In the USA, 20 million Americans have gallbladder disease and surgeons in this country perform 500,000 laparoscopic cholecystectomies each year.

By inflating the abdominal cavity with carbon dioxide at a flow rate of 3.5 liters per minute a working space is created, essentially laparoscope (camera) from the navel ring is injected and then other 2 tools are included in the abdominal cavity from the holes in the size of 5 mm. Under the control of the image send by the camera to monitor, the cystic duct and the cystic artery clipped with tiny titanium clips and gallbladder is removed from the abdominal cavity.

In the case of gallstone disease is not undergo surgery several complications can occur: fall of small stones to the common bile duct and creation of obstructive jaundice, acute inflammation of the pancreas - acute pancreatitis, acute inflammation of the gall bladder. These complications can sometimes be life threatening.



Hernioplasty is considered as one of the most conducted operations in the world.
Each year up to 600000 operations of this kind are conducted in USA.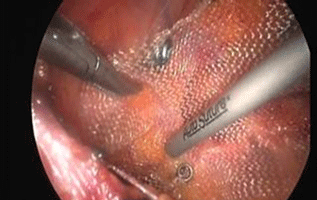 According to variety of literatures, in 10-20% cases, the reformation of hernia is observed after the inguinal hernia surgeries. In post surgical operation period the patients undergo stationary treatment within 5-8 days and return to a normal lifestyle after 6-8 weeks.

Following the application of this type of endosurgical methods and innovative technologies since the end of the 80s, the probability of reformation of hernia upon laparoscopic surgeries conducted with different synthetic nets in the case of anterior abdominal wall has been reduced by 3% and complete restoration of the working ability and returning to active life have been up to 2-3 weeks.

Such surgeries are already conducted in many clinics of the world on an outpatient basis.