28.06.2016
Right-sided ureterosigmoidostomy surgery was carried out. Urogenital fistulas were widespread all over the world until the late 19th century.
Later, development of gynecology in Europe and America and childbirths at local hospitals led to rapid decrease of birth complications and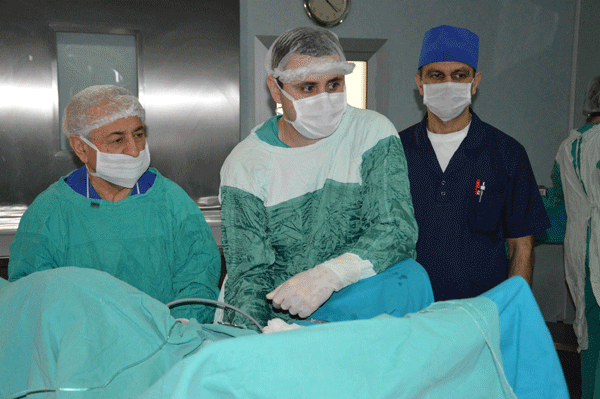 urogenital fistulas. Nevertheless, 35% of women over the age of 45 complain about urinary incontinence. And the main cause of this problem is urogenital fistulas (Timothy Mc Kinney 2012).
Urogenital fistulas are abnormal communications between urinary tracts and female sex organs. The urine from the bladder freely flows into the vaginal vault, leading to total or continuous incontinence. Continuous incontinence affects the women's social life, causing them to be isolated from the society and left by others.
I would like to speak about one of the patients receiving treatment for this disease at the Republican Hospital named after Arif Heydarov of the Ministry of Internal Affairs. H.Elmira applied to the MIA Hospital in February 2016, complaining about involuntary release of urine from vagina. She said that she had been suffering from this disease for 6 months. H.Elmira claimed that the disease had been caused by the gynecological surgery performed in October 2015. In October 2015 a surgery had been performed on the excision of Hartman cyst of vagina. 10 days from the surgery, the patient had observed flow of urine from the vagina. The cystoscopy carried out at the MIA Hospital found a defect in the right ureteric lumen. As the result of the laboratory and instrumental examinations, vesicovaginal fistula was diagnosed.
On 02.03.2016 a surgery was performed on the removal of vesicovaginal fistula under endotracheal anesthesia by the Head of the AMU Department of Urology, Honored Scientist, Professor S.B.Imamverdiyev at the Republican Hospital named after Arif Heydarov of the Ministry of Internal Affairs. The operation went without complications. The postoperative period was calm. While the patient was discharged from the hospital 7 days from the surgery, her status was deemed satisfactory. The Foley catheter was removed on the 14th day of the surgery. In the subsequent period, no flow of the urine from the vagina was observed. In the following months re-examinations were carried out and the general situation was considered satisfactory. At present, Mrs. Elmira lives normal lifestyle.